Salustra For Cardiovascular Support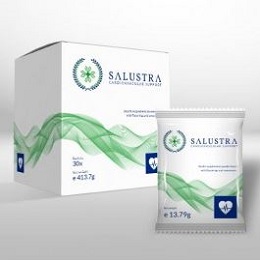 Our flagship product is Salustra, containing L'Arginine. This is a product designed to promote cardiovascular health – i.e. a healthy heart. So the product isn't just for people who have heart problems – it's for anyone with a heart and blood circulation system! Prevention is better than cure. Here are some of the benefits:
Improves cardiovascular health, artery flexibility and blood pressure
Better energy – physical and mental
Faster recovery from training
Stabilises irregular heartbeat
High anti-oxidant level to kill free radicals and repair oxidative damage
Re-absorbs calcification into the bone
Watch the video below where you will meet Colin Smith, natural health practitioner and founder of the company "Salustra".
CAUTION - This product is manufactured in an environment that handles Fish, Gluten, Dairy, Soya and Sulphites. Not suitable for persons under 18 years of age. If pregnant (or trying to become pregnant), lactating or nursing please consult your doctor before using this product. Please consult your doctor or practitioner prior to use if you have a medical condition.
About Salustra The Company
Salustra is registered in Ireland and designs, formulates and develops unique, high quality, nutritional supplements that are specifically targeted to support and maintain the long-term health and well-being of your body. The company has improved their products over 11 years by observing results in their clinic and the company already has many satisfied customers. Nutrition 4 All is an independent distributor for their supplements.