Gracilia for Weight Management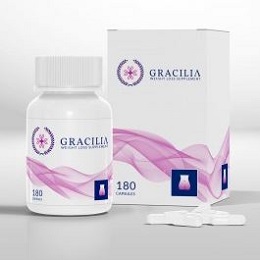 Weight loss supplement Gracilia is a weight management program designed to work in the ways below, by including these ingredients:
Water soluble fibre to clean out the system and curb appetite to make you feel full
Chromium to help balance blood sugar – important for everyone, not just for diabetics
Amino acids to enhance mood – because when you feel happier you make better food choices
Learn more about how Gracilia can help you control your weight in this video.
CAUTION - This product is manufactured in an environment that handles Fish, Gluten, Dairy, Soya and Sulphites. Not suitable for persons under 18 years of age. If pregnant (or trying to become pregnant), lactating or nursing please consult your doctor before using this product. Please consult your doctor or practitioner prior to use if you have a medical condition.
About Salustra The Company
Salustra is registered in Ireland and designs, formulates and develops unique, high quality, nutritional supplements that are specifically targeted to support and maintain the long-term health and well-being of your body. The company has improved their products over 11 years by observing results in their clinic and the company already has many satisfied customers. Nutrition 4 All is an independent distributor for their supplements.