Purifica For Digestive Support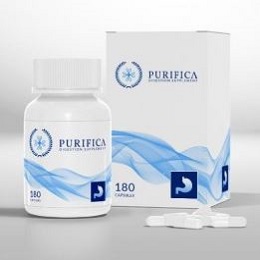 One of the most common reasons for poor health is inadequate digestion. If nutrients are inadequately digested they cannot be absorbed, so you don't get the full health benefit from them. This product helps with digestion support.
Purifica is designed to support and aid digestion, thus maximizing nutrition, so you can get the most benefit from your food. Feeling sleepy or "windy" after meals may mean your digestion is poor because you have an insufficient supply of digestive enzymes. These decline as we age, leading to indigestion discomfort.
If this sounds like you, or someone you know, you may benefit from using Purifica for digestive support.
CAUTION - This product is manufactured in an environment that handles Fish, Gluten, Dairy, Soya and Sulphites. Not suitable for persons under 18 years of age. If pregnant (or trying to become pregnant), lactating or nursing please consult your doctor before using this product. Please consult your doctor or practitioner prior to use if you have a medical condition.
About Salustra The Company
Salustra is registered in Ireland and designs, formulates and develops unique, high quality, nutritional supplements that are specifically targeted to support and maintain the long-term health and well-being of your body. The company has improved their products over 11 years by observing results in their clinic and the company already has many satisfied customers. Nutrition 4 All is an independent distributor for their supplements.