Fortifica for Immune System Support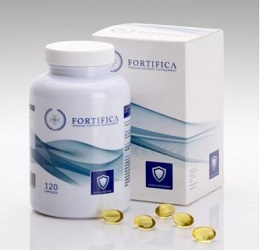 Fortifica contains Shark liver oil and Oregano oil. It is designed to support your immune system and may reduce:
Skin condition irritations
Respiratory and lung ailments
Recurrent mouth ulcers
Yeast, Candida and parasitic infections
Urinary tract and bacterial infections
Occurrence of colds and sinus problems
This video gives you more information about how Fortifica supports your immune system
CAUTION - This product is manufactured in an environment that handles Fish, Gluten, Dairy, Soya and Sulphites. Not suitable for persons under 18 years of age. If pregnant (or trying to become pregnant), lactating or nursing please consult your doctor before using this product. Please consult your doctor or practitioner prior to use if you have a medical condition.
About Salustra The Company
Salustra is registered in Ireland and designs, formulates and develops unique, high quality, nutritional supplements that are specifically targeted to support and maintain the long-term health and well-being of your body. The company has improved their products over 11 years by observing results in their clinic and the company already has many satisfied customers. Nutrition 4 All is an independent distributor for their supplements.